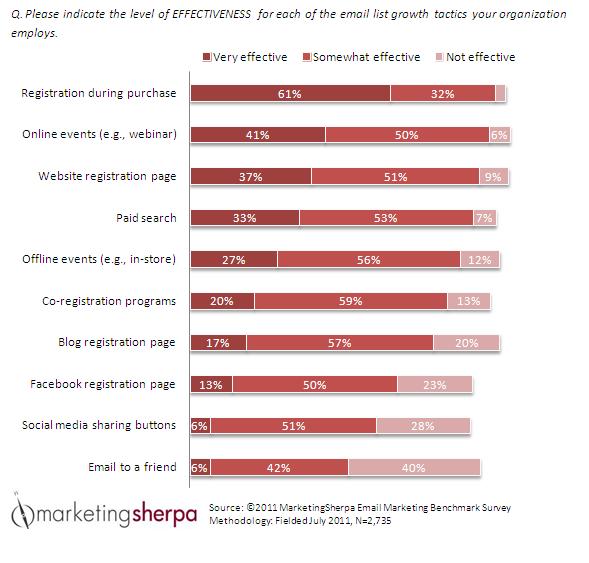 Growing your email list has benefits beyond the obvious increase in size. For example, new subscribers are often more active than older ones. They just signed up for your emails and want to click and open them.
For this reason (and many others) you should always strive to grow your email list. Doing so will help keep your engagement numbers healthy and ensure your brand is connecting with new prospects.
Growing your database can seem daunting, though, with the number of tactics at your disposal. Thankfully, marketers have been running list growth campaigns for years. Here is a chart of 10 popular tactics, starting with the most effective on top. The chart is pulled from the all new MarketingSherpa 2012 Email Marketing Benchmark Report.
The Most Effective Way: Registration during purchase
More than 90% of email marketers say adding an opt-in request to the purchase process is at least "somewhat effective" at growing email lists. This tactic is also the only one to have more than half of email marketers (61%) saying it is "very effective."
Digging deeper in the Benchmark Report, we find this tactic was only the sixth-most used among the 10 listed. The tactic is vastly more popular among e-commerce marketers (59% use it) compared to marketers in other industries:
Professional or financial services: 31%
Software and software as a service: 28%
Education or healthcare: 26%
Most Effective Way #2: Online events (webinars, etc.)
Offering content or something else of value is a common way to build an email list. We're seeing online events prove to be effective incentives. More than 90% of email marketers say they are at least "somewhat effective" at building lists and 41% say they are "very effective."
Online events appear to work best in the software sector, with 46% of email marketers there saying the tactic is "very effective." That number drops to only 24% in the e-commerce sector, which is understandable. When was the last time you attended an event to buy something on Amazon?
Most Effective Way #3: Website registration page
Website registration pages are, far-and-away, the most popular tactic for growing email lists, with 75% of email marketers using them. Their popularity remains above 70% across email marketers who target consumers, businesses or a mix of both.
Adding several calls-to-action to join your list throughout your website is an effective tactic, and you can greatly improve results by following best practices. Kodak, for example, captured 33% more email subscribers by updating its email capture form, adding more opt-in requests, and adding a capture form to Facebook. (The team overhauled its welcome emails, and added social subscribers, too.)